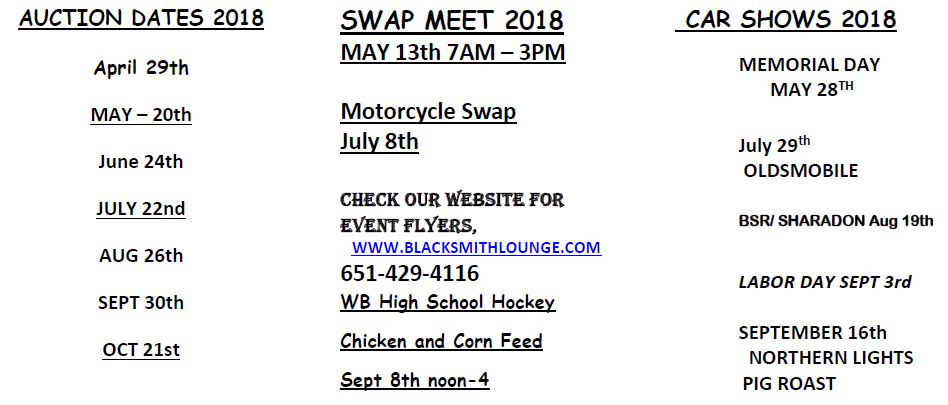 CONSIGNMENT AUCTIONS

Auction Dates 2018

(USUALLY) Held the last Sunday of the month (April - October)
April 29th
May 20th
June 24th
July 22nd
August 26th
September 30th
October 21st


Come have fun outdoors at the Blacksmith Lounge! Auction Time - 10 A.M.
Bring your collectables, antiques, lawn & garden and household items.
Consignments taken morning of the auction from 7 A.M. - 9:30 A.M.
Manges Auction Service
507-256-4459
23969 785th Ave.
Albert Lea, MN 56007
mangesauction@yahoo.com
CAR SHOWS

Blacksmith Lounge is known for fun events like car shows, swap meets and auctions.

Memorial Day

May 28, 2018
Annual Car Show for over 40 years!
Flyer

Oldsmobile Show

July 29, 2018 - Flyer


Sheradon BSR

August 19, 2018
Rat Rods, Frankenstein & Wounded Warriors

Labor Day

September 3, 2018
Annual Car Show for over 15 years
Flyer


THE BIG ONE - NORTHERN LIGHTS PIG ROAST

Our Annual Northern Lights Car Show (the big one, 30+ years and counting) is always the 3rd Sunday in September (9/16/2018).


SWAP MEETS

Sunday May 13th 2018 - 4TH ANNUAL CARB-ON-KNIGHT'S RUSTY SPRING SWAP

7 A.M. - 3 P.M. (no early entry)
Large Spaces Available - No Registration Required - Crafters Welcome
Swapper Entry Fee: $10 Donation for Eradicate Cancer
For more inforamtion call Rich 651-464-7136
Breakfast 10 A.M. - 1 P.M.
Lunch starts at Noon


JULY 8TH 2017 - MOTORCYCLE SWAP MEET

9 A.M. - 3 P.M. RAIN OR SHINE
FREE ADMISSION
Vendors Wanted
Food and Drink Available
OTHER EVENTS

White Bear High School Hockey

Chicken and Corn Feed
Noon - 4 P.M.
September 8, 2018